80+ FEFCO styles
Create FEFCO style boxes with over 80 FEFCO styles available with the BOXmaker!
Save time
With setup time under one minute, save time and resources with BOXmaker AUTO.
Protect the environment
With built-in ECO servo motors and power saving modes, give your own contribution to protecting the environment.
About
Created with the intention of saving time and resources while enhancing cardboard box production numbers, the BOXmaker features an array of unique modules. Sticking with the original idea of all the operations being done in a single pass of a plate, the BOXmaker has become the #1 corrugated cardboard box production solution for companies across the world.
Fully Automated box production system
The BOXmaker AUTO features full automatic setup of modules, allowing the machine to be setup quickly. The time needed for switching between box models is less than one minute in total. The machine is equipped with a wide variety of modules allowing it to perform slotting, slitting, creasing/scoring, longitudinal and cross cutting, printing, and gluing - all in a single pass!
Control Unit
User friendly interface with instruction tooltips. The training of an operator takes 2 - 4 hours. The control unit is a 15" color touchscreen display with numerous features. Complete monitoring and diagnostics including load of the servo motors, air presure, power consumption, number of boxes produced, etc. Also featured on the control unit is LAN port for remote VPN connection and diagnostics.
Auto set up knives
The revolutionary "shark teeth" shaped knives are a result of evolution and have been developed through numerous trials and testing. The shape of the knives provides equal distribution of force along the cutting area, in turn producing a far better quality of the cut, than the single blade angled slotting knives, avoiding ripping and tearing of the cardboard. The technology provides for extended use of the knives which have proven not to lose in quality of the cut after 2000000 slots. The knives are automaticaly set up via the control unit.
Cross Cutting
High powered cross cutting module features circular blade and is capable of high speed cross cutting of the cardboard. Suitable for high density cardboards, the cross cutting module has working speed of up to two meter per second.
Flexo Printing Module
The flexo printing module can print single color labels of up to 150mm in height and 470mm in length. Ideal for standard markings on transportation boxes. The printer unit is aligned manually and the position of the imprint is setup automatically via the control unit. There are no limitations on how many times can a print be repeated on a box. Also, the printer has a mixing function so the paint doesn't dry out when it is not used.
Gluing Module
High speed and gluing? We got it covered! With speeds well over two meters per second and the posibility of appliying glue in single or double lines the gluing module is an ideal solution when it comes to streamlining the box production. Excelling on big boxes, the gluing module will shorten production times and provide a more continious workflow with more work being performed on a single workstation.
Powered by Lenze ® electronics
Cutting edge technologies behind the covers. What differentiates the BOXmaker from the competition is the use of latest generation of Lenze® electronic components. All of the actuators on the machine are Lenze® servo motors, accompanied by PLC, servo drivers, frequency inverter and control unit touch screen panel - all made by Lenze®.
Services
We provide an array of services complementary with our products.
Real time monitoring
Real time monitoring and diagnostics via remote VPN connection directly from our cutomer support centre.
Warranty
We offer 12 month full coverage warranty, with our service teams haveng 24 - 48 hours response time.
Specification
We produce machines per client specification. Our clients are not constricted with models, but are able to choose modules for their machine.
Organization
Our agents provide advisory meetings with our clients in order to find the most efficient combination of machines for their needs.
Continious support
Tha machines have key spare parts included in order to achieve and maintain continious workflow and lower regular maintenance times.
Client support
Not sure about the model? Our sales agents will advise You on best solutions for Your production and recommend the most suitable configurations.
Get Your specification now!
Corrugated cardboard box production has never been easier! Email us today and our sales agent will contact You to work out the best solution for Your production needs.
Send email
Sales
We export machines around the globe and the BOXmaker is handling corrugated carboard box production on six continents below are figures for 2019.
Facts
Our numbers can be Your numbers!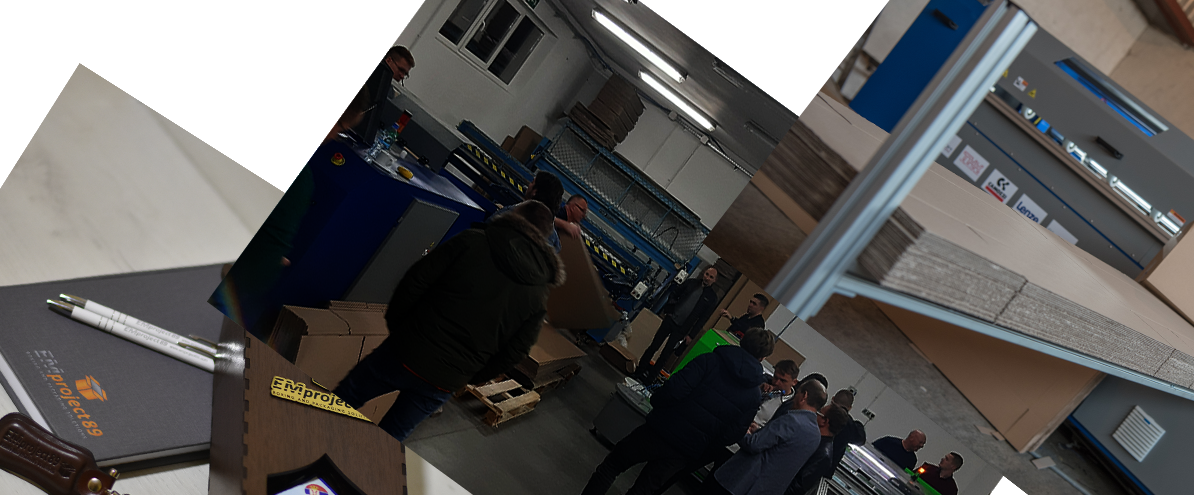 All
Control unit
Internals
Producing
Videos
Below are a few videos demonstrating the possibilities of our corrugated cardbord box production machines
Contact Us
Have additional questions? Contact us via phone, email or contact form!
Address
Reka 40, Novo Selo, 36216 Vrnjačka Banja, Serbia
Your message has been sent. Thank you!